Dwarftown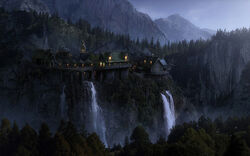 Rulers
Lord Jakhar Grimstone
Institutions
The Lord's Castle
Places of note
The Great Waterfall
Date of founding
Golden Age
Founder
Ferris Boulderarm
Dwarftown is a large village located in the Dwavern Kingdom, it is amongst the oldest villages in Amsnorth and holds one of the highest population for a village in the kingdom.
It is the first settlement that the dwarves crafted upon their first sighting in the surface of Amsnorth.
When Orzinhall was destroyed, the dwarves all rose from underground, to seek new refuge. First the built a small village near where their home once was. The village was nothing more than a few houses, but as their population grew, the dwarves crafted it into a village large enough to be a city.
Over time as the dwarves spread across the land, the village's population thinned as the people ventured further into wonder and curiosity about the lands teaming with animals and beauty.
Since the days of the dwarves, the village is now a settlement for those living within its areas. However it does attract some attention from the outside world due to its history.
The Great Waterfall
Edit
The main attraction of the village is the huge waterfall in which the village sits upon. The large crystal river flows under the village where it tumbles over the ledge and into the stony river bellow. 
This place is also one of the best sources of water among the people of the Dwavern Kingdom. Its pure streams and untamed water make it for a fresh taste, and when drunk from the moment collected it is as cold as ice, and can refresh any wondering traveller.