===
Garreneari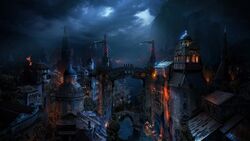 Population
5,000 (All Dark-Elves)
Institutions
Blood Castle
Places of note
None of Interest
Date of founding
Great Purge
===
"A city created on the grave of ash and bones. Garreneari is a place of death and evil. Owned by the dark-elves, this city has seen horror and is tainted by corruption."
- About the city
Garreneari is the city and capital of Wizardear. Upon the destruction of the magical beings, and the fall of dragons, Azugon decided to create another city.
Upon his dissappearance, the city is known ruled and owned by the dark-elves. 
During the Great Purge, when the Dark Lord Azugon launched an attack on Amsnorth, most of the world's cities were in ruin. To create a place where his Spawn and amries may dwell, Azugon built Garreneari. 
Hundreds of thousands of people worked to build the city, and many died in the process. Azugon however cared little about them. 
When Azugon vanished and the lands were cleansed of the spawn and goblins, the dark-elves were the first race to rush to the island of Wizardear and claim the city for their own. The humans and wood-elves did not seem to bother about such an act as they were far from the affairs of their own.
Noble Residents
Edit
Lord Phzi
Lady Grazhun
Lord Yuri
Lady Junder
Lord Olik
Commander Hagar
Nordic Cumminham
Villages within the city's borders
Edit
Sheer
Fenwhick
Chantry
Gourlay
Coldtown
In the Books
Edit
The city does not appear nor is it mentioned until the third novel of the Tales of Amsnorth.The city plays a large part through a certian section of the third novel, however things will not be said until the book's release.