Hem's Gate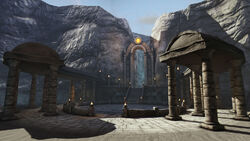 Institutions
The Main Gate
Date of founding
Golden Age
Hem's Gate is the ancient gate that is located within the Dwavern Kingdom. It is a large stone gateway that was built to block off entry to the ancient destoryed dwavern city, Orzinhall.
Description
Edit
Hem's Gate was set in an impregnable stone and iron wall that stretched for up to two hundred miles. The wall has been estimated to be 40 feet high. 
Behind the gate were gigantic circular stone ramparts, and when the gate needed to be opened. There are huge black chains which are pulled so it could be opened, but they have since been destoryed to prevent any kind of entry.
Around the stone are dwavern writtings that warn those who attempt to enter. They say in the common tongue: Travellers beware! Thoes who dare seek entry will contiune at their own peril. Ahead lies a maze of rubble, and monsters that haunt the deepest of places. 
It was originally a gate built by the dwarves, to protect the ancient place that was once their home. The gate is now guarded bu 10 men, who always keep watch for wonderers.