Heroes Pose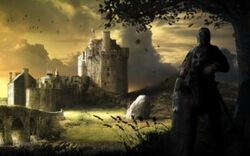 Date of founding
War of Kings
Heroes Pose is a castle located within the Dwavern Kingdom. It was buitl during the War of Kings to guard the eastern sea.
The  castle was origianlly a fort issued by King Daragorn Boulderarm after the lower areas of the Dwavern Kingdom were being invaded by Dark-Elves commanded by King Saaelas, during the War of Kings
Heroes Pose was named after several of the greatest dwavern soldiers all rallied and held the fort as the elves stormed the seas and bashed at its gates. Over 200 men held the fort at the time, and aftet the breach of the fort, they were all slaughtered without mercy.
Into a Castle
Edit
After the War of Kings ended, the current new lord of the Golden Halls ordered for the fort to be transformed into a castle and to be used as one of the seats of power within the politcal affairs within the kingdom.
Current Status
Edit
The castle is now one of the lower castles within Amsnorth, it holds not lord nor any kind of ruler, but is the home of many maids and servents who serve the lords in further castle south of their location.