Steeltown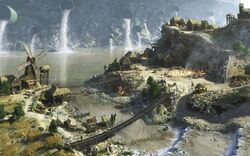 Rulers
Lord Pyke Gongardol
Institutions
The Steel Mine
Places of note
Great Tunnel River
Steeltown is a village located within the Dwavern Kingdom. Unlike the other villages within the islands, this one is a mining village, and holds few people. Those who do reside there and mainly workers.
Little is known about the village's past, but it is a mining village due to its location near a large amount of steel, hence its name. Many lords have owned the village, and each have changed the way the village operates. 
Currently the village holds on 300 civilans, and 200 soldiers to guard and protect both them and the mining.
Places of Note
Edit
The Steel Mine
Edit
This mine buries around one hundred feet underground, where millions of tons worth of steel lies. This is the central hub of weaponry within the main island, exluding the True Steel Islands. The steel lying within this mine is both strong and expensive. It is used to forge many of the knights' armours across Amsnorth. 
This steel is sold for hundreds of gold pieces around the lands, making it one of the most expensive metals in all the lands. 
Great Tunnel River
Edit
This is one of the biggest flows of water in the Dwavern Kingdom, but it is not used as a food source, but more of a liquid used to lubercate the steel workstations within the Steel Mine.
Geography
Edit
The village is located to the southwest of Golden Halls and directly south from Hem's Gate for around three hundred miles.