Vardunviel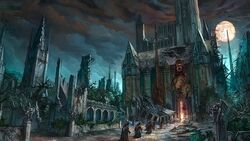 Date of founding
Golden Age
Vardunviel is an ancient castle located in the Dwavern Kingdom . It is known for its creation of coal, and is the main source in the island for its factory functions. It is considered a castle, but many see it as a factory as it uses workers, mainly children to built and craft firepits, and other means of transport.
The castle was built in the Golden Age. It was always ment to be a place where workers would built and create unquie things that would serve a great deal to the dwarves. The ancient dwarf kings used children as they saw them as being more healthy and fit than the older dwarves, however many people tried to fight against this. 
During many wars the castle was one of the main targets due to its function of crafting many of the islands ships and other weaponary. It is heavily guarded by over 50 men, and these are trained in the arts of swordplay and archery.
Appearance
Edit
The castle is described as being rather sinster. Its high towers are always seen spitting flames and smoke, that rises high into the sky to creat black clouds above. Its grounds are dark and mucky, with solid tar and other rocks covered the sight around the castle.
Inside the castle it is not like the others around Amsnorth. It is dirty and covered in machines and dust. There are hundreds of rooms which hold many things that are used to built and craft. There are few chambers which the children all sleep in, but these are so tightly crammed that over 20 children squeeze into a bed fit for two people.
Geography
Edit
The castle is locate south of Willow-Song, and around three thousand miles from the Golden Halls. It is within the Oaklands and is around one hundred miles from the nearest path or road, making it almost remote.
It is an industrail castle, and is the first to hold the next step in technology within Amsnorth
The only people not to be children are the guards
It is often remarked as being like a prison
It was influcenced by the Children's Labour, which was a major event during out past