Willo-Song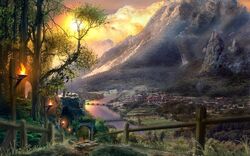 Rulers
Lord Gormar Boulderrock
Date of founding
Golden Age
Age
10,000 years (approx.)
Willow-Song is a small village located in the Dwavern Kingdom. It is one of the smallest villages in Amsnorth as well as being one of the most remote. 
The village was built in the Golden Age and was built by an unknown dwarf. It is small and remote being located thousands of miles from the captial, Golden Halls. There are few people living here due to its lack of houses and homes, this has never been a place where lords or kings have taken interest, and it has never been considered for expansion.
War of Kings
Edit
The houses are strong and tough being made from stone and wood from the Oaklands. The village was one of the few locations that were used as bases during the War of Kings. King Jortharm Grazaxe used the village as a post to look over Dragon Harbour. 
When Jafier Heartan landed his troops onto the island, Willow-Song sent out raves to warn the King of the Golden Halls. This enabled the king to send out his own troops to fight off the humans. However Jafier soon learned about the village, and had several of his assassins to invade it, capturing most of the nobles and killing all of the ravens.
After the war, the village was recreated.
Geography
Edit
The village is located to the west of the Dwavern Kingdom,  and directly south of the Shadow Forest. It is surrounded by the Oaklands, and oversees the Black Sea. Its centrual hub for transportation through the sea is at Dragon Harbour.