Yunka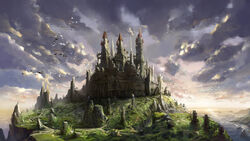 Rulers
Lord Castrol Yunka
Founder
Unknown
(Most likely from House Yunka)
Yunka is one of the main castles within the Dwavern Kingdom, it is home to House Yunka, an ancient house that was around by the time the first dwarves stepped into the surface of Amsnorth.
The castle is known for its unusal location, around five hundred miles from any settlement, and nearly one thousand miles from the island's capital, Golden Halls.
Despite being dozens of miles from the nearest settlement, it does have its own shore and harbour, making for fast transport around the island.
Not much is known about its history, but its name comes from the ancient house, House Yunka. It is possible that maybe the lord of the house founded the castle, or perhaps his descendents.
The castle has had many updates and recreations in its time. Its most common one is the large graveyard that now circles around its main road. It is unknown why this was built there.
Due to being a high court house, the castle is protected by 5 fully trained knights. They are all vey skilled and combat efficent. It is not clear if these knights are at all related to the house.
Geography
Edit
The castle is located at the very end of the islands western arm. It oversees the Golden Ocean and is very close to the Silver Shore.